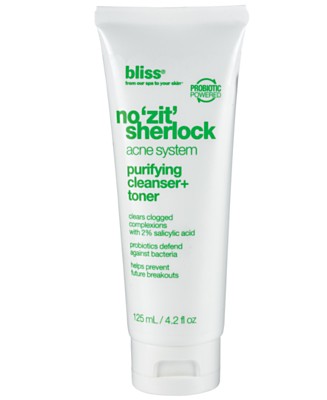 Have you heard of the
Bliss Spas
? A favorite high-end spa of the stars, Bliss has locations in New York, LA, and Hollywood- to name a few. Bliss' facials are notorious for making the celebs glow before big events, and you can often open up a magazine to find someone else raving about them.
Not only are their spas luxurious, but so are their products. Bliss sells their own line of skincare available at your nearest Sephora or Ulta, and product junkies across the country agree- it's some of the best stuff you can get your hands on.
Naturally, I was super excited to try some of their products, as I had heard great things about it. I don't usually get many breakouts, but my face had started acting up within the last few weeks, and I had recently purchased "
No 'Zit' Sherlock
", so this was a good time to give it a try.
The smell initially was a bit medicinal- kind of like Vick's Vapo-Rub or a Hall's Cough Drop, mixed with some citrus-y scent. To be honest, I was a bit put off at first, but it wasn't unbearable.
The cleanser lathers up nicely and worked beautifully with my Clarisonic. My skin is a little bit on the dry side, and the cleanser-and-toner aspect didn't but it a bit. I always added some moisturizer after so my skin didn't feel to "tight" after washing, but I think it would really balance out oily skin quite well.
As far as breakouts were concerned, I was pleasantly surprised that after washing before bed, I woke up with my blemishes completely deflated and nearly half their size and redness. It only took a couple of days before they were completely gone, and regular upkeep has kept them away.
Overall I am very satisfied with this product, and highly recommend it!